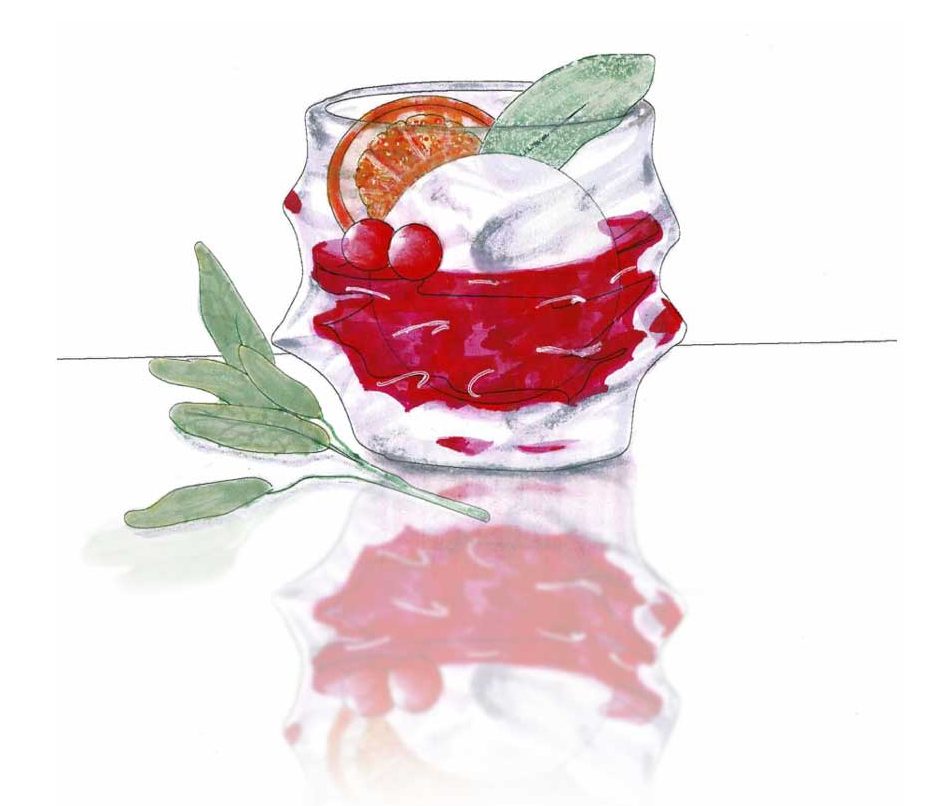 We are getting excited for the opening VIP event festivities for Seasonal Living Magazine's Luxury Virtual Designer Showhouse and hope you are, too!
To celebrate this history making event, we've had a special cocktail recipe created for you to make at home, before you join us online over on our YouTube channel on Thursday, Dec.3rd at 6 pm Eastern time.
[ If you haven't gotten your complimentary registration yet, stop, and do it here, right now. ]
Before we share the recipe, we'd like to introduce you to #MarbleOverSilk's creator, Nick Type and the cocktail's photographer, Sam Henderson.
THE COCKTAIL'S CREATOR
Nicholas Type, (follow him at @thefullestpleasure on Instagram here) came from a background in luxury hotel management in the UK, and has since opened several restaurants in Manhattan and Darien, Connecticut.
When contacted, he agreed to develop our signature cocktail for us and we hope you will enjoy making it at home before you join us for our *Sneak Peek Reveal* festivities!
Nick: thank you!
THE COCKTAIL'S ILLUSTRATOR AND PHOTOGRAPHER
Sam Henderson, the Creative Director of Savour Partnership, and the designer of Seasonal Living Magazine, styles and shoots all the food photography for our magazine. He created the beautiful illustration below, and also is the photographer of our #MarbleOverSilk signature cocktail.
Here's a picture of Seasonal Living's founder and CEO, Gary Pettitt, with Sam.
Sam: thank you.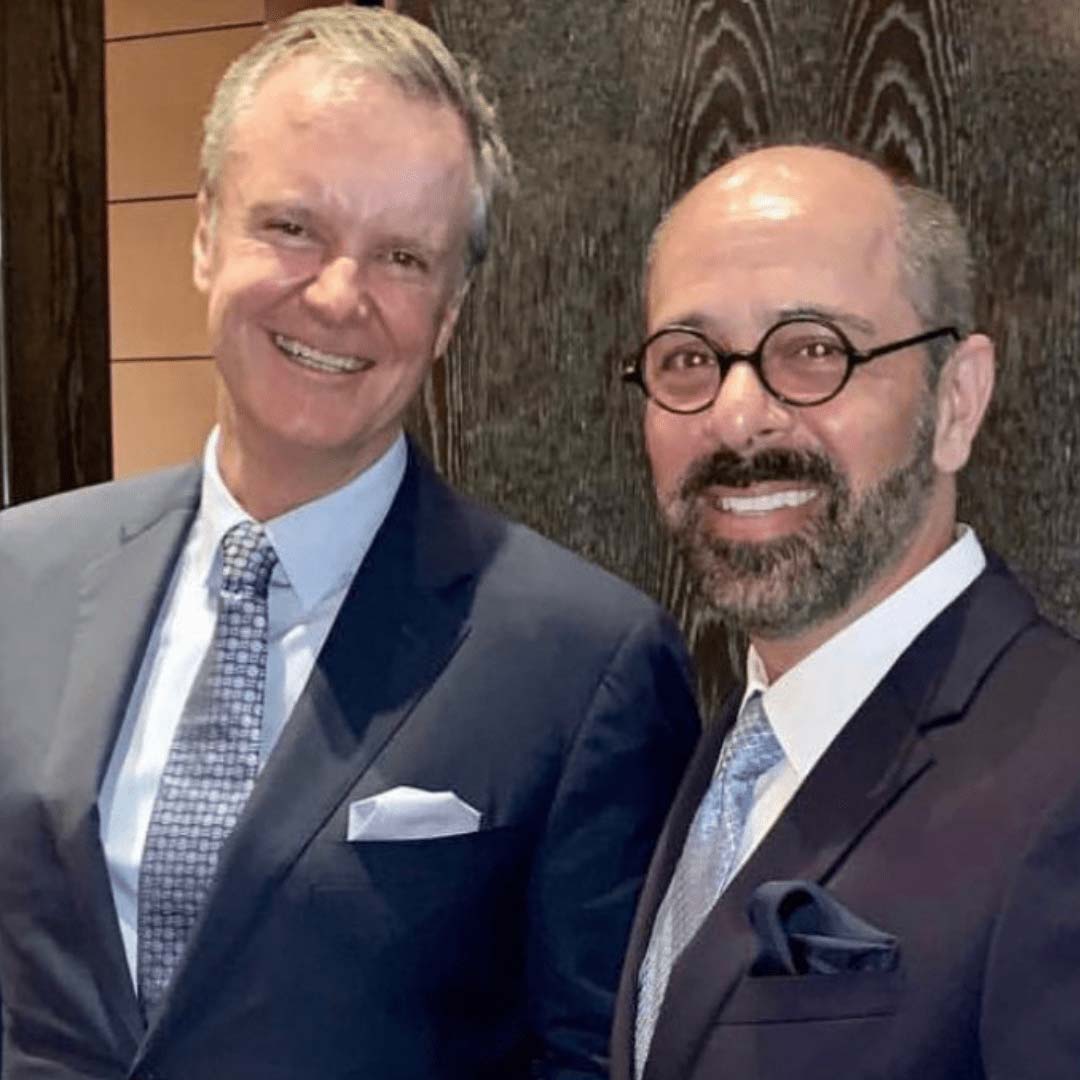 Here's #MarbleOverSilk, as photographed by Sam. Gary sent the glass to Sam in Paris, where Sam lives, in order to get the perfect image. If you'd like to buy our special glass, too, you can do it on Amazon, here.
That attention to detail is what sets Seasonal Living, the brand, apart, and one reason why Seasonal Living has won the prestigious Arts Award 5 times and is now the premier boutique brand for modern indoor/outdoor furniture, lighting and decorative accessories in the world.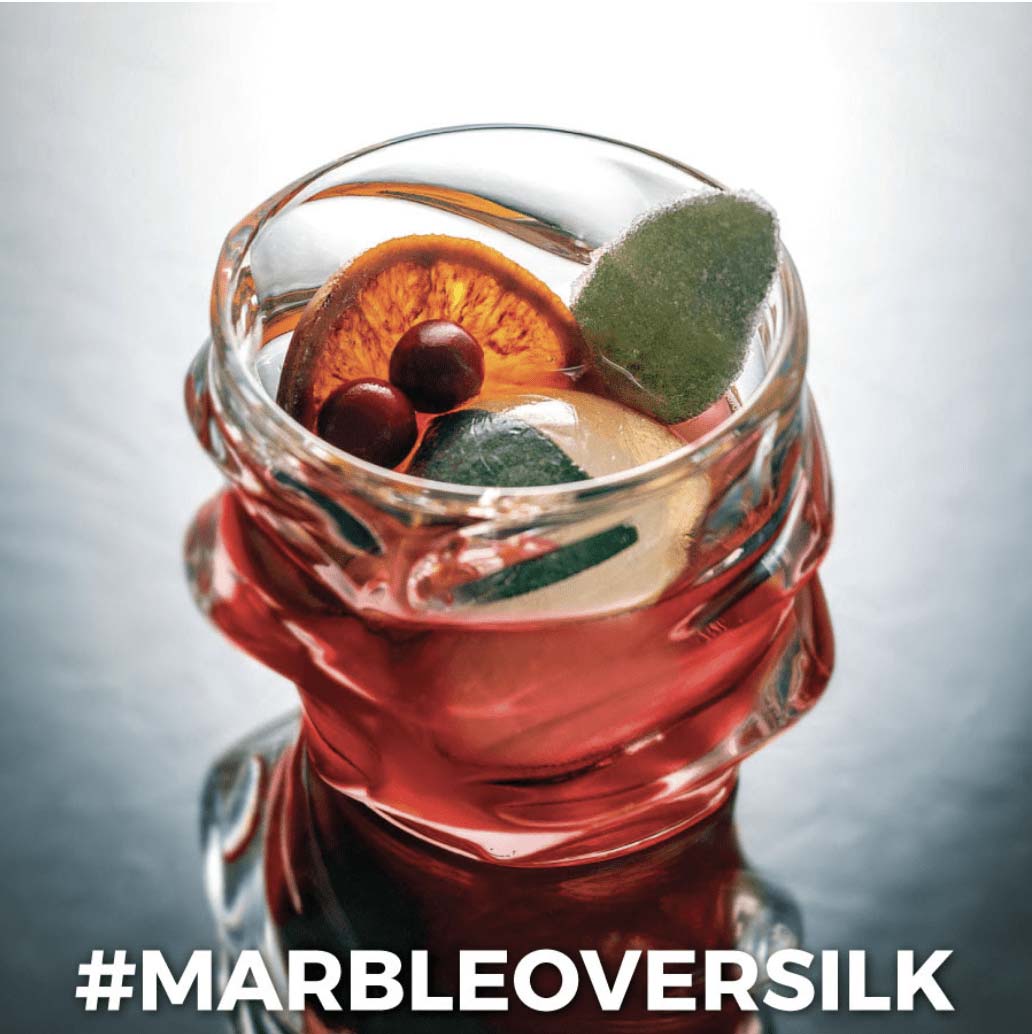 HOW TO MAKE THE ROUND ICE CUBES THAT ARE THE SIGNATURE ELEMENT OF #MARBLEOVERSILK.
Given that the round ice ball is the signature element in our #MarbleOverSilk cocktail, we invite you to consider our appliance sponsor, Signature Kitchen Suite's new 36″ counter-depth French Door refrigerator, if you're needing a new one before the holidays.  It includes a KRAFT ice maker that makes 3 different shapes of ice, including round ice balls, as shown below.
How wonderful would it be to be able to have round CRAFT ICE™ at the ready for holiday entertaining – so quickly?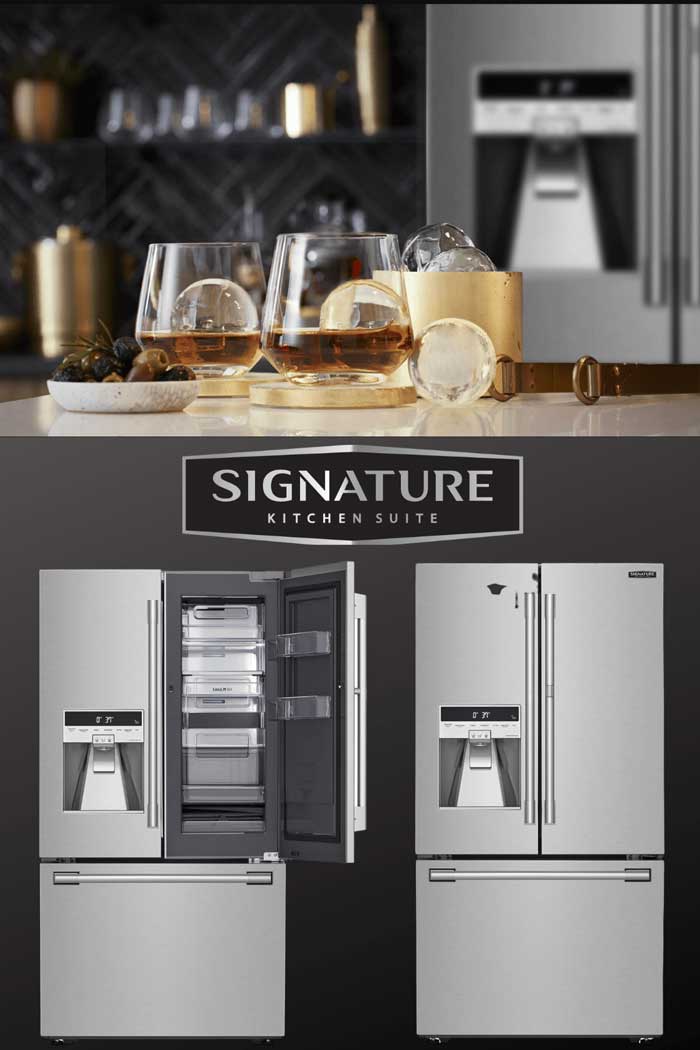 If you're not ready for a new refrigerator yet, though, these stackable, round ice cube molds from Williams Sonoma also work nicely. They make a 2″ round ice ball and the high quality silicone from which they are made makes it very easy for the ice cubes to release after frozen.
Buy them here. [ Please note: if you do buy these, we will make a small commission, at no additional cost to you. This is WS's way of saying thank you to us for showcasing their product in our blog ]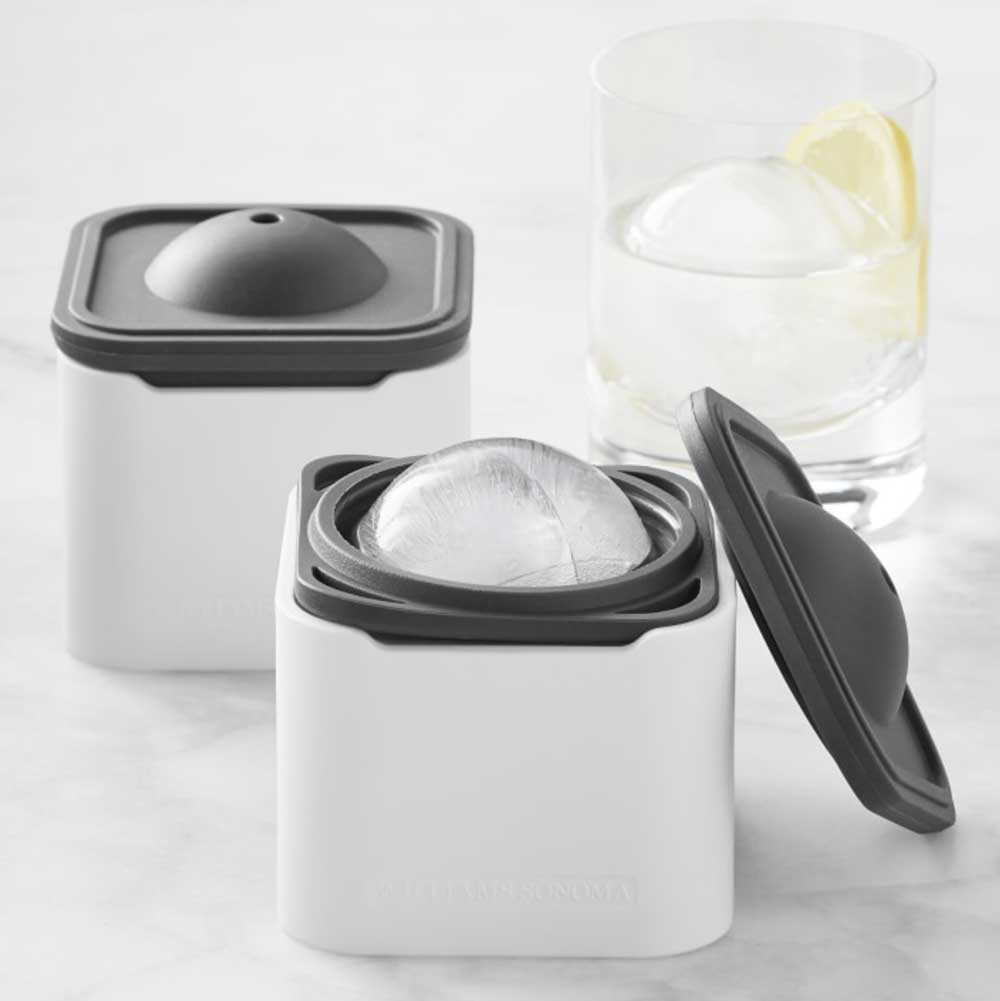 THE RECIPE FOR #MARBLEOVERSILK 
We hope you will enjoy slowing down a bit to make our signature showhouse cocktail to enjoy with us, your friends, your colleagues and the viewers from around the world who will also be watching the virtual festivities on 12.3, starting at 6 pm ET.
It includes a few special garnishes – 2 of which can be made a day ahead of time – the bruleéd oranges and the sugared sage leaves. The sage syrup can also be made a few hours ahead of time to give it a chance to cool.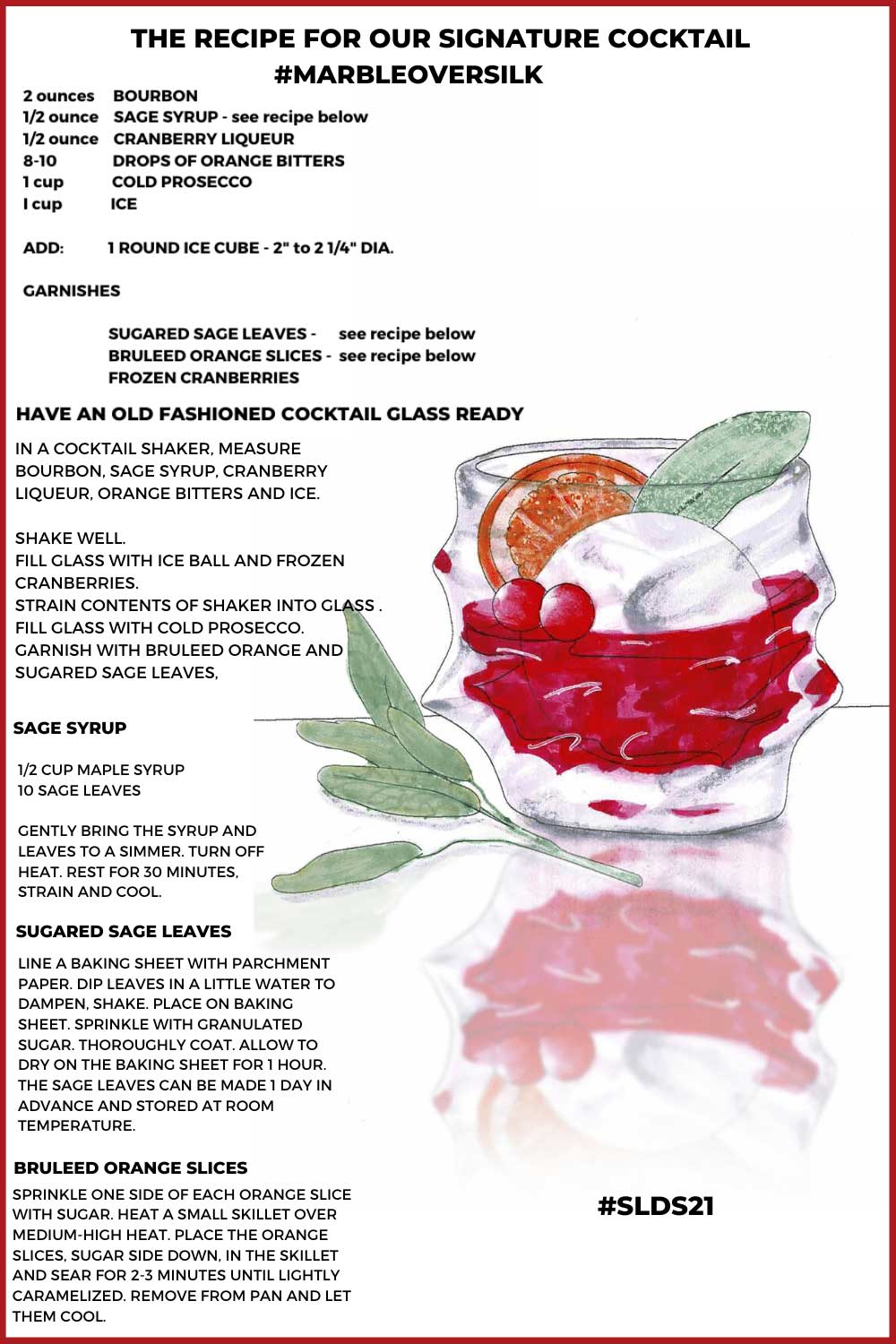 If you make our #MarbleOverSilk signature cocktail, please take a picture of it, or yourself with it, and tag us on Instagram and Facebook using #MarbleOverSilk and #SLDS21. We'd love to reshare your images in our Instagram STORIES with a link back to your Instagram feed, if you do.
And if you still haven't registered yet, here's the registration link one more time: https://bit.ly/DesignerShowhouse. 
A huge thank you to our participating sponsors (meet them all in more depth on this blog post ), our participating designers, and our rendering team, all of whom you will meet in the pages of the special Showhouse Edition of Seasonal Living Magazine.
It has been a year long effort of collaboration to bring this to you, and we appreciate everyone, including the platform we publish our magazine on, ISSUU.com, for this blog post that went out to their audience, for helping to bring such an exciting moment in the history of the furniture, lighting, kitchen and bath and interior design industry to you on Thursday, Dec. 3rd, starting at 6 pm ET.
Please Pin this image or the one after it to Pinterest so others will know they can join us for the complimentary festivities on the 3rd of December, to help us kick off #Holiday2020, in a safe, fun and inspiring way!
As always, we appreciate you reading our blog and sharing it with your friends, and if you have any questions or comments, we invite you to mail them to us at editor@seasonaliving.com.
Cheers!
The Team At Seasonal Living
Gary Pettitt
CEO and Founder
Instagram || Facebook || Pinterest || Twitter || You Tube