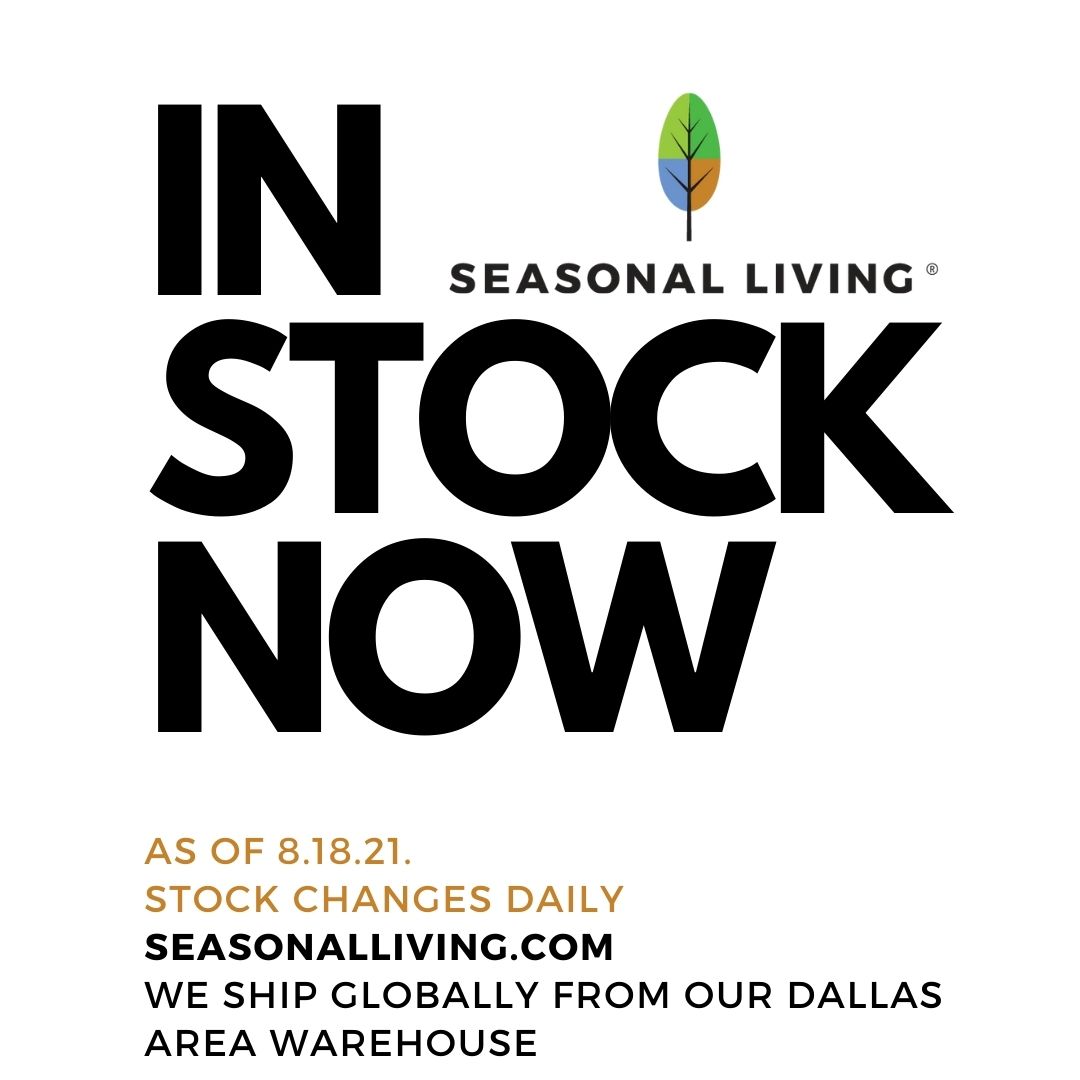 WHAT'S IN STOCK NOW AS OF 8.18.21
We know that many of you are seeking to find indoor/outdoor furniture that is in stock now, as of August 18, 2021.
We are aware that this post is time sensitive. Please note that if you come across this post at a later date, what you see below may not be accurate as stock availability and product availability changes daily.
We believe, however, it's important to communicate as widely as possible some of what we have in stock right now as we're aware many of you are having a difficult time finding modern indoor/outdoor furniture for yourselves and/or your customers/your clients due to the labor shortages and delivery issues facing the furniture industry – and all industries.
First, is our SENZA 118″ table from our PERPETUAL collection.
With Fall 2021 High Point Market focused on telling sustainability stories, our SENZA with its reclaimed teak top is a perfect choice for any indoor/outdoor residential, commercial or hospitality specification where sustainability and durability are important considerations.
Get more details on our SENZA table by clicking on this link:
https://www.seasonalliving.com/products/senza-teak-table-118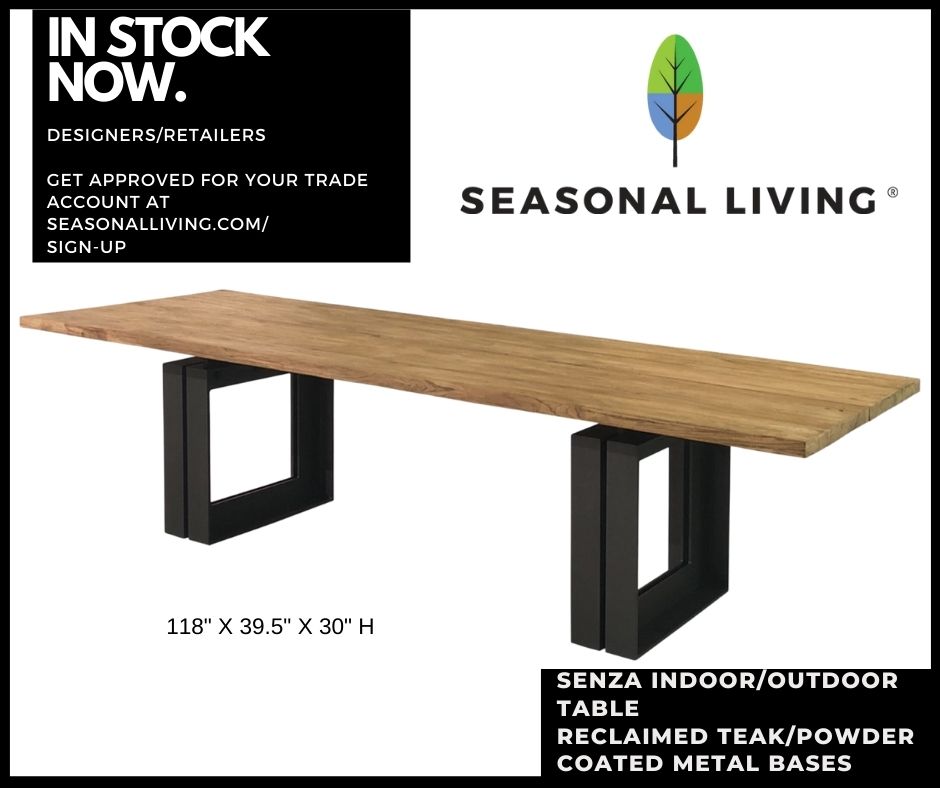 We also have several other items in stock featuring reclaimed teak.
Our LUCCA counter table below is one. With its lightweight concrete top, and at 120″ long and 36″ high, it's the perfect counter height table for entertaining and gathering in any indoor/outdoor setting all year around.
Find out more details about our LUCCA counter table on this link:
https://www.seasonalliving.com/product/perpetual-teak-lucca-counter-table-ivory-white/
And don't miss this important post – giving you the easy care instructions for our lightweight concrete tops.
https://www.seasonalliving.com/2019/11/how-to-care-for-concrete-furniture/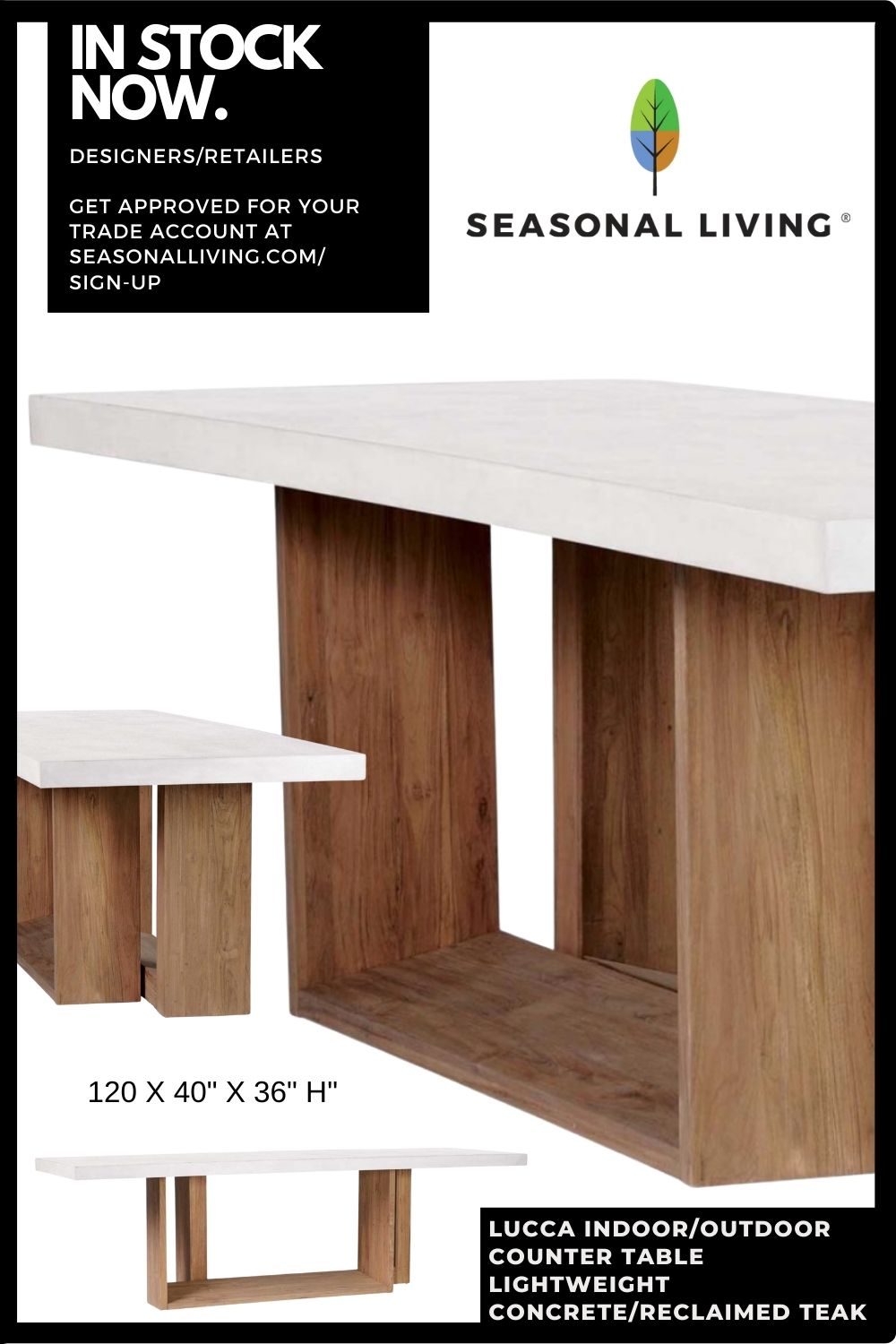 Our SOLO reclaimed teak counter height stools, sold in sets of 2 and shown below, are the perfect accompaniment to our LUCCA counter height table, shown above.
In addition, our MAGIC CUBE with its reclaimed teak base and ivory white lightweight concrete surface is a perfect accent table or additional small stool, wherever you might need one.
Find SOLO details on this link:
https://www.seasonalliving.com/product/perpetual-teak-collection-solo-bar-stool-in-reclaimed-teak/
Find MAGIC CUBE details on this link:
https://www.seasonalliving.com/product/perpetual-magic-cube-2/

COUNTER STOOLS 
We also have 3 different models of our counter stools in stock, [ sold in sets of 2 ] each as perfect as the next for either indoor or outdoor specification.
DANE Counter Stool (lower right)
https://www.seasonalliving.com/product/archipelago-the-dane-counter-chair-set-of-2-dark-gray-frame-dark-pebble-weave/ 

STOCKHOLM Counter Stool (lower left)
https://www.seasonalliving.com/product/archipelago-stockholm-counter-chair/

OCEANS Counter Stool (upper right)
 https://www.seasonalliving.com/product/explorer-oceans-counter-chair-set-of-2/
Our Oceans counter stool from our popular EXPLORER collection has an FSC eucalyptus wood frame.
Forest Management Certification confirms that wood from forests with this certification are being managed in a way that preserves biological diversity and benefits the lives of local people and workers, while ensuring they sustain economic viability.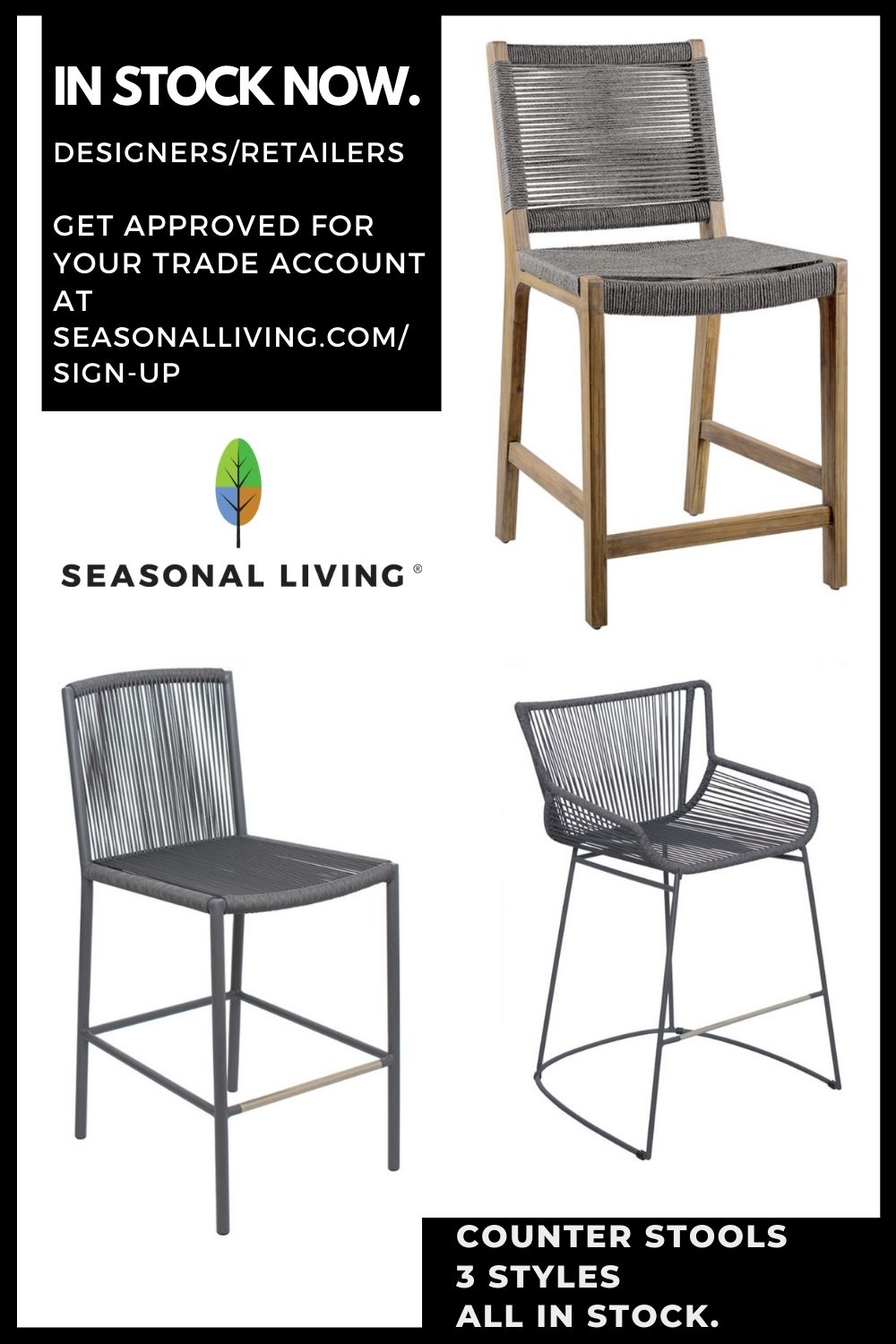 COLORFUL HAND GLAZED CERAMICS
We also have these models in stock [in these colors] from our always popular CERAMICS collection. These are perfect for indoor or outdoor use wherever you need a pop of color.
We also have various other styles and colors in stock, too, and invite you to inquire at sales@seasonalliving.com, if we can assist you in finding a trusted distribution partner nearest your location.
TWO GLAZED CUBE (large image)
https://www.seasonalliving.com/product/ceramic-two-glaze-square-cube-set-of-2-60/
SCALLOP (top left)
https://www.seasonalliving.com/product/ceramic-furniture-collection-scallop-stool/
ANCARIS (bottom left)
https://www.seasonalliving.com/product/ceramic-ancaris-stool/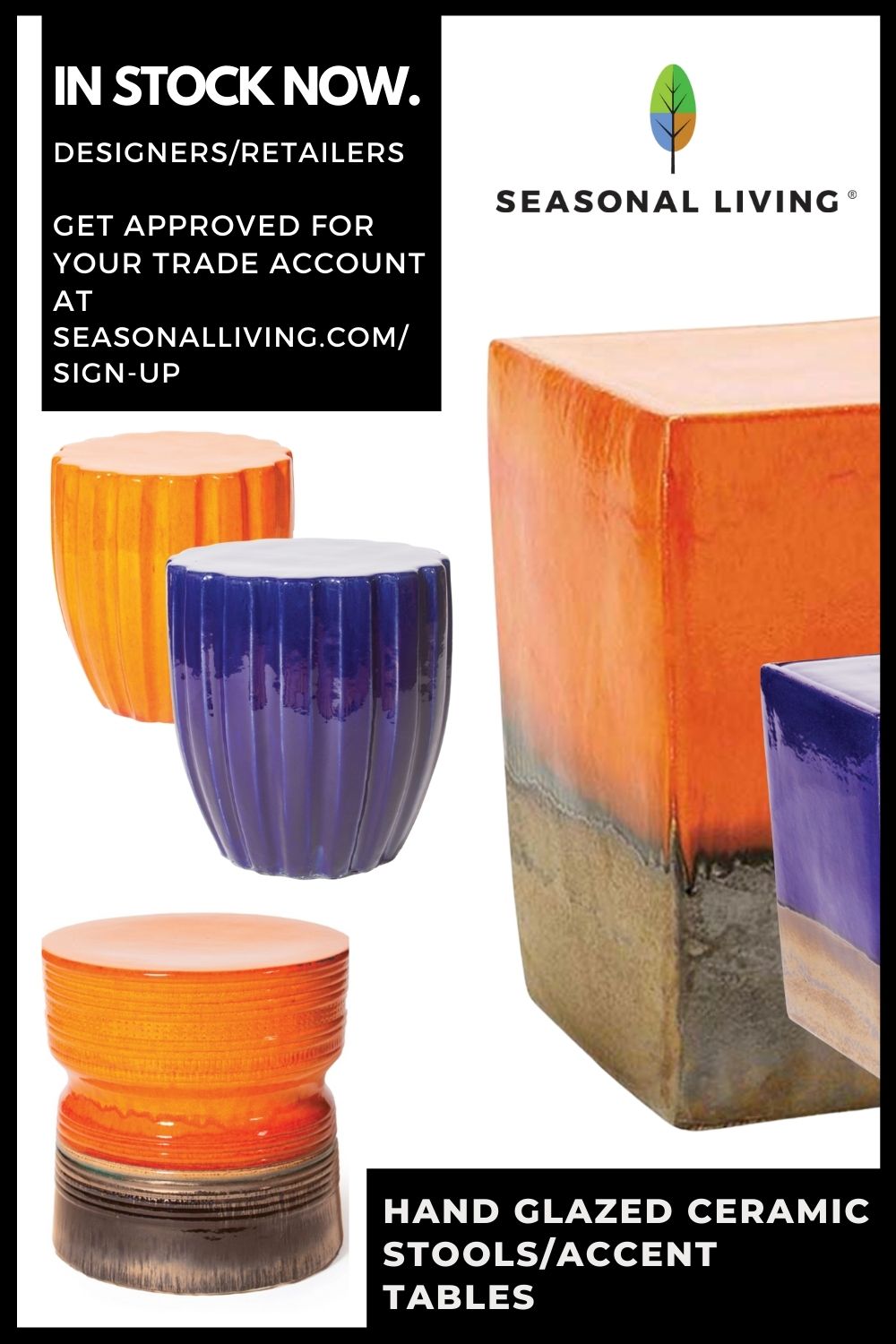 HOW TO BUY FROM US
We do not sell direct to consumer from our website, but instead sell through a trusted network of distribution partners, including interior designers, retailers, and trade showrooms.
If you are a retailer, designer or trade showroom that would like to apply to be approved for a trade account, we invite you to click on this link now: https://seasonalliving.com/sign-up. 
If you are approved by your area's sales representative, you will be notified by email.
At that time, you will be given a password to your private customer portal on our website which you can access 24/7, where you will be able to check in-stock inventory in real time.
This is inventory that is physically in our Dallas area warehouse at the moment you check, but please be advised that, because our inventory is updated in real time, our inventory changes minute by minute.
If you need help or have a question now, we invite you to email us at sales@seasonalliving.com so we can assist you promptly with any questions you may have.
PROVENANCE SIGNATURE COLLECTION: COMING FALL 2021
Our new 42 piece Provenance Signature Collection, designed for us by internationally acclaimed interior designer Laura Muller, will be in stock this fall.
As many of you saw, we previewed this stunning new indoor/outdoor collection at June's High Point Market which we wrote about in this blog post:
https://www.seasonalliving.com/2021/06/hpmkt-highlights-spring-2021/
We have already pre-sold many pieces and if you are a retailer customer of ours, we encourage you to place your orders now for Winter 2021 and Spring 2022.
If you are planning to attend High Point Market in October, we invite you to see the Provenance Signature Collection and meet Laura Muller in our #HPMKT showroom in IHFC IH – 506.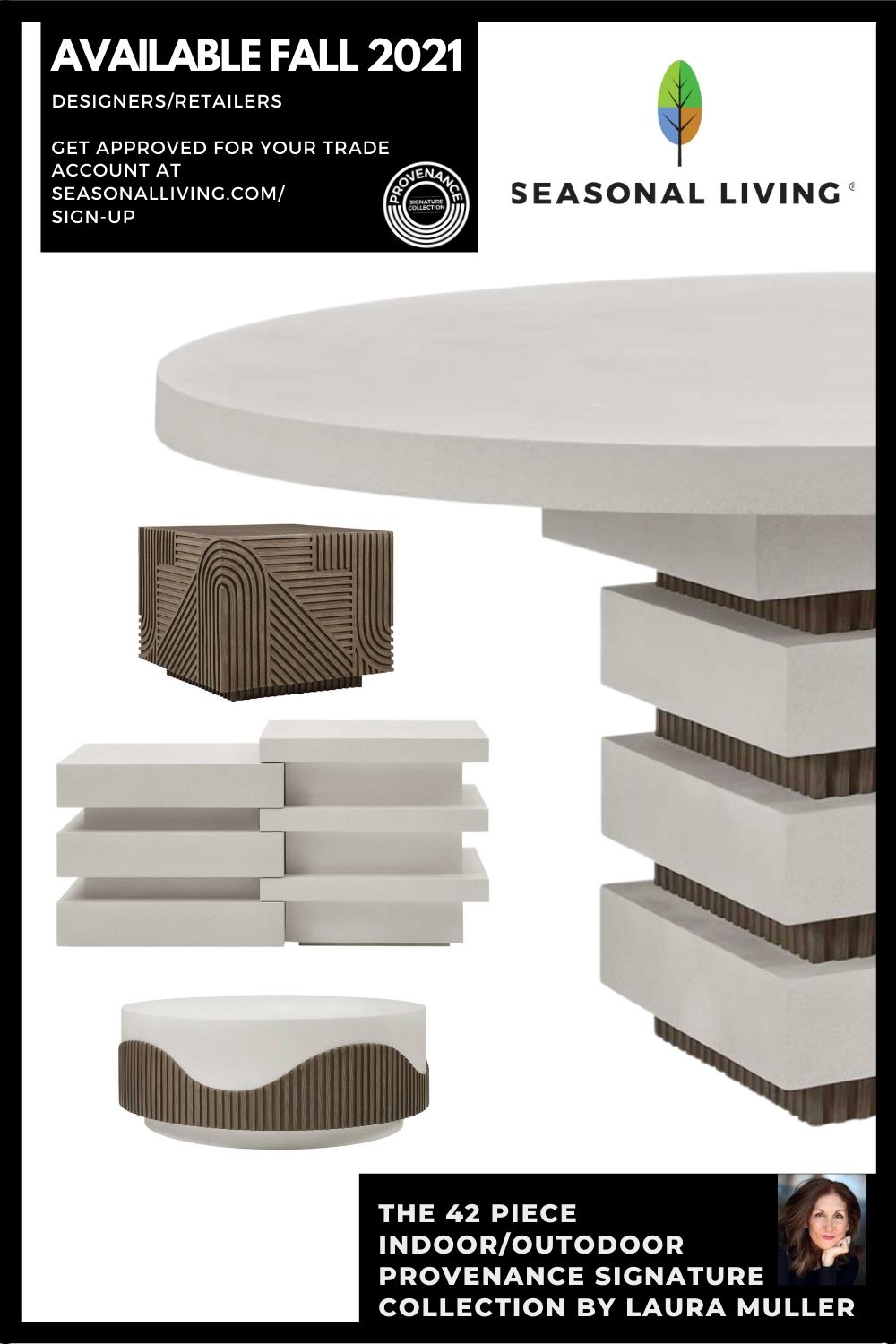 As Fall approaches, we realize it's not easy to find high quality modern indoor outdoor furniture in stock right now and we hope these suggestions will be useful.
Again, if you have any questions, we invite you to reach out to us at sales@seasonalliving.com. Our customer service team is ready to assist you.
One last note! Be looking for the Fall 2021 edition of Seasonal Living Magazine in your inboxes on or near Sept. 22nd, the first day of Fall.
If you haven't gotten your complimentary subscription yet, we invite you to do so by clicking this link:
https://www.seasonalliving.com/seasonal-living-magazine/
We thank you for your business over these past 17+ years. We are working hard to communicate with you as we face these challenging logistical times, and hope this post was helpful.
The Team At Seasonal Living
Gary Pettitt, CEO
Instagram || Facebook || Pinterest || Twitter ||You Tube