Seasonal Living sprung from a passion for wellness and outdoor living combined with an aversion to mass-produced homogeneity in home furnishings. Backgrounds in international business and hospitality gave the company's founders a unique perspective on the vast range of indoor and outdoor living experiences found around the world. Having lived in Kenya, Spain, France, Hong Kong, Singapore, Indonesia, and the United Kingdom, they identified a market for comfortable, fresh, and affordable furniture and accessories that blurred the line between indoor and outdoor environments.
Seasonal Living provides distinctive furniture and decorative accessories that invite people to connect with the outdoors and live in rhythm with the four seasons. All pieces are handcrafted by skilled artisans who have honed their skills and artistic inspiration and are committed to producing superior quality. We've built long-term relationships with our artisan partners, enabling them to continue handing down their skills to the next generation while enriching their local communities and regional cultures. Our multifunctional furniture and accessories are crafted using renewable and recyclable materials wherever possible.
We support the in-the-trade designer community with leading product design. Versatile modern product designs, palettes, and materials work in synchronicity with each other, offering a wealth of design choices and combinations. With a focus on easy-care materials, Seasonal Living products blur the lines between indoor and outdoor environments, enabling designers to create sophisticated, personalized spaces for their clients. Committed to our customers' success, we showcase inspiring designers, materials, products, and techniques in our Virtual Designer Showhouse and Seasonal Living magazine. A centrally located distribution facility helps make shipping as cost-effective as possible for our customers. Our website delivers seamless access to product information, ordering, and account management tools.
Seasonal Living is a multiple winner of the industry's prestigious ARTS Award and is an ARTS Hall of Fame Member. The company is headquartered in Austin, Texas.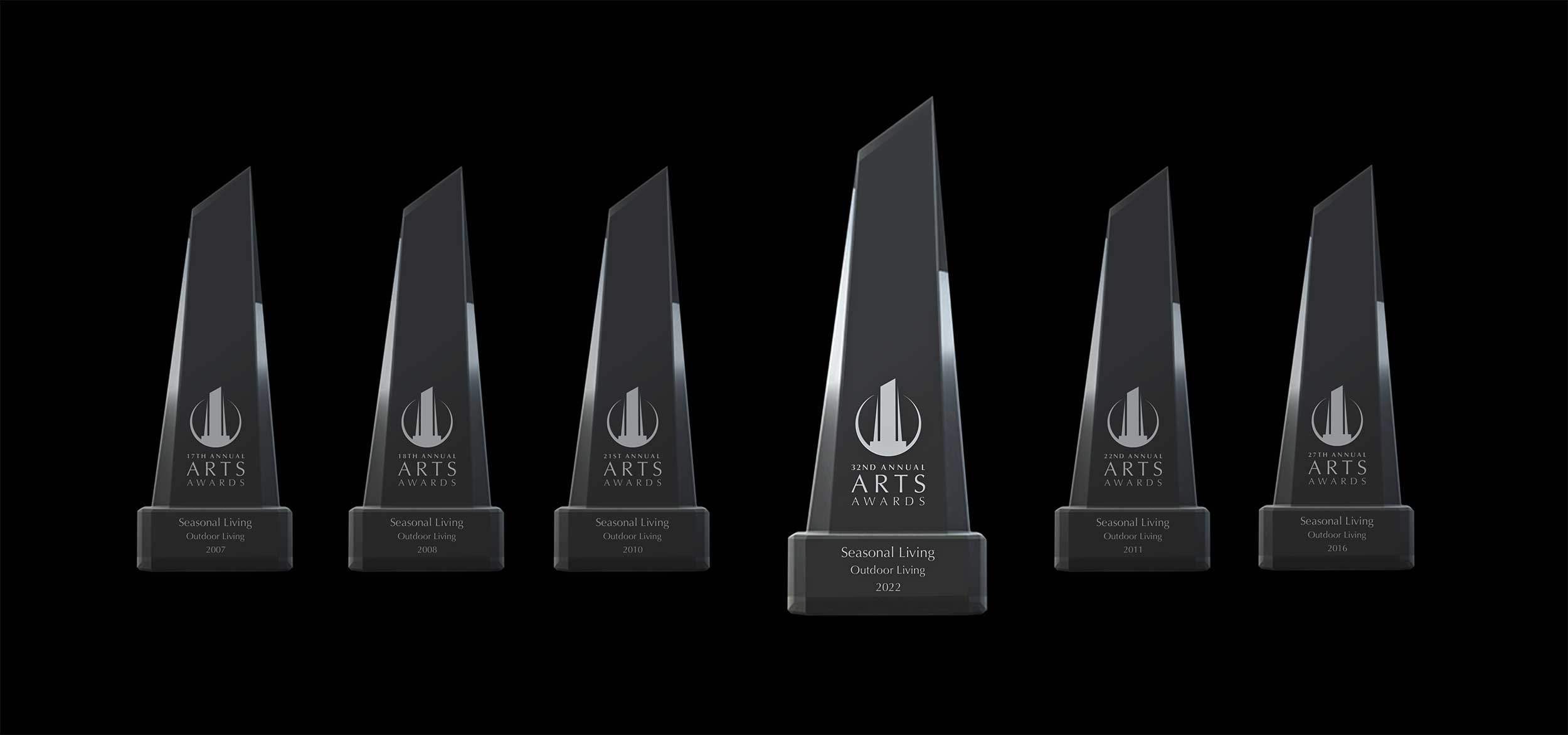 Awards
Winner of Multiple ARTS Awards
The ARTS Awards, developed by the non-profit ART and produced by Dallas Market Center, is a peer nominated program with ballots submitted online from April to June each year. Anyone in the home accents industry can participate and submit multiple ballots to nominate in several categories. Self nominations are not accepted. Nominees and finalists are not required to exhibit in Dallas or belong to ARTS. After finalists are determined by an industry nominating committee, the final list of companies and individuals are announced in August and submissions for judging are due in November. The presentation submissions are 100% digital. The judges independently review and score each submission on criteria established by the ARTS Awards committee. The 5 judges represent various industry backgrounds and a 6th judge representing the Sustainable Furnishings Council reviews the manufacturer presentations to determine the Green Award winner. The scores are tallied and the winners in each category and the annual Academy of Achievement are announced in January during the Dallas Total Home & Gift Market.
ART Hall of Fame Member
Seasonal Living is an ART Hall of Fame Member. The ARTS Awards Hall of Fame was created to honor companies who have won the ARTS Awards five or more times in a category.